TIM
HOWELL
WINGSUIT BASE JUMPER
Tim is standing on a ledge of Dolomitic limestone 3000 meters up the Marmolada mountain in the Italian Alps, he is about to jump. Join us on a journey of discovery about the science of risk. Inigo is partnering with Tim Howell, a professional wingsuit base jumper, to understand how he is able to de-risk the seemingly reckless, transforming it into something exceptionally calculated and executed.
We will learn about the science that keeps him safe. From the highly technical aspects of the climbing and flying equipment he selects, to the complex maths involved in calculating safe trajectories and everything in between. The comparisons between his mindset and ours are astounding.
Let's jump in.
There is no adrenaline in what I do, only calm."
Base camp beneath the jagged peaks of Mount Kenya.
Tim on Mount Kenya 'finding exits'. A term used in the wing-suiting community for finding safe and viable places from which to jump.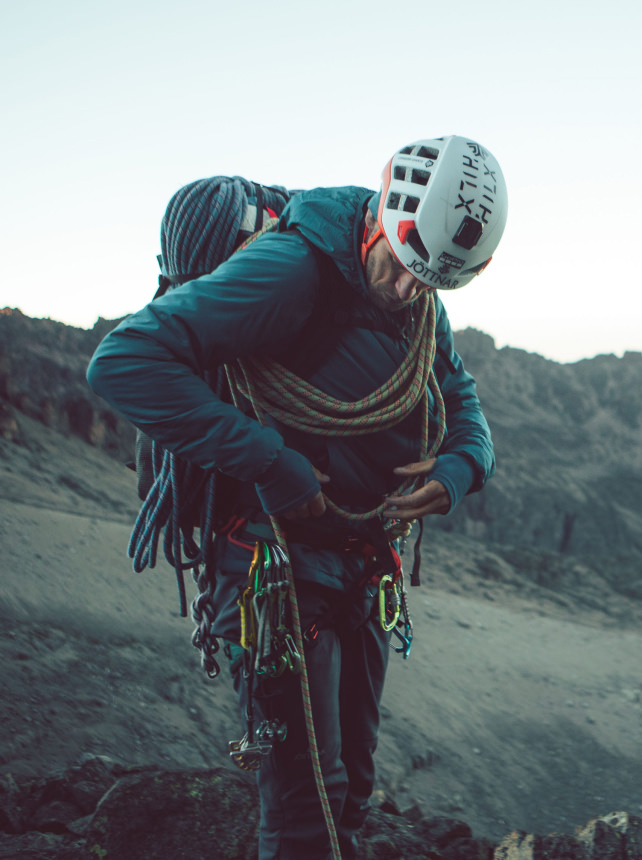 To jump, first you have to climb.
What makes Tim unique in the wing-suiting community are his abilities as an alpinist. As a former Royal Marines Commando, he has acquired a level of training superior to that of most explorers and climbers. His profound understanding and experience in operating across most terrains and climates throughout the globe enable him to jump from places others simply cannot reach.
WHAT GOES UP MUST COME DOWN.
Packing the kit is an essential skill for any climber. The skill level increases dramatically when you consider that all the equipment Tim uses to climb and jump needs to be flown back down the mountain. Ski and tent poles, down the legs of the wingsuit. Crampons, between them, ropes down the arms, pick axes around the torso…Tim has even flown an entire tent down with him. As much as this seems incredulous and somewhat amusing, you can imagine how it might adversely affect the flying characteristics of the suit. Heavier weight means more speed, more speed means a harder landing.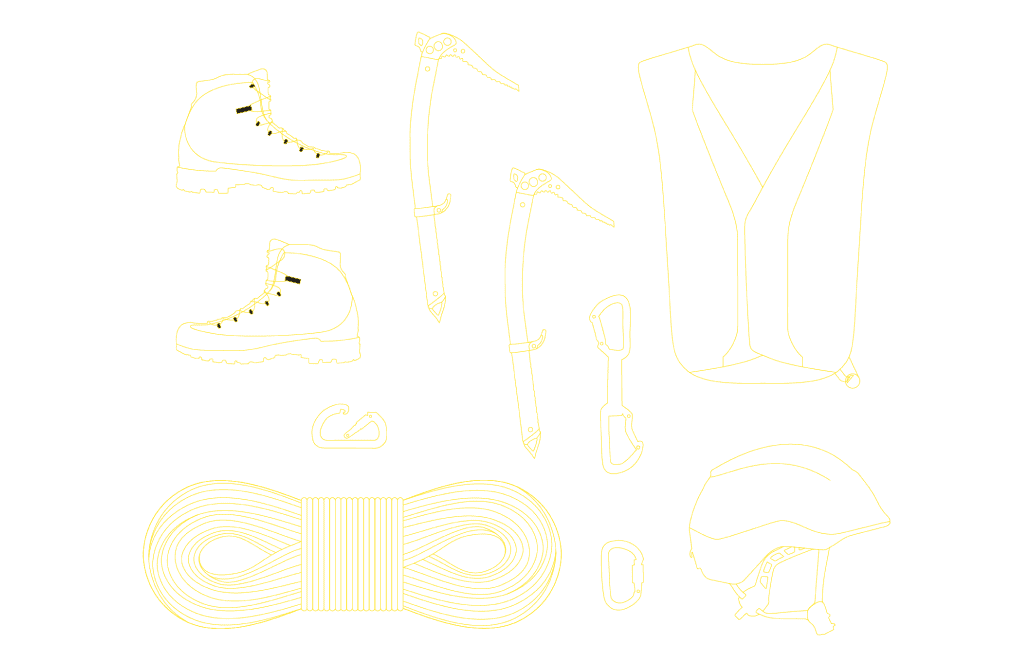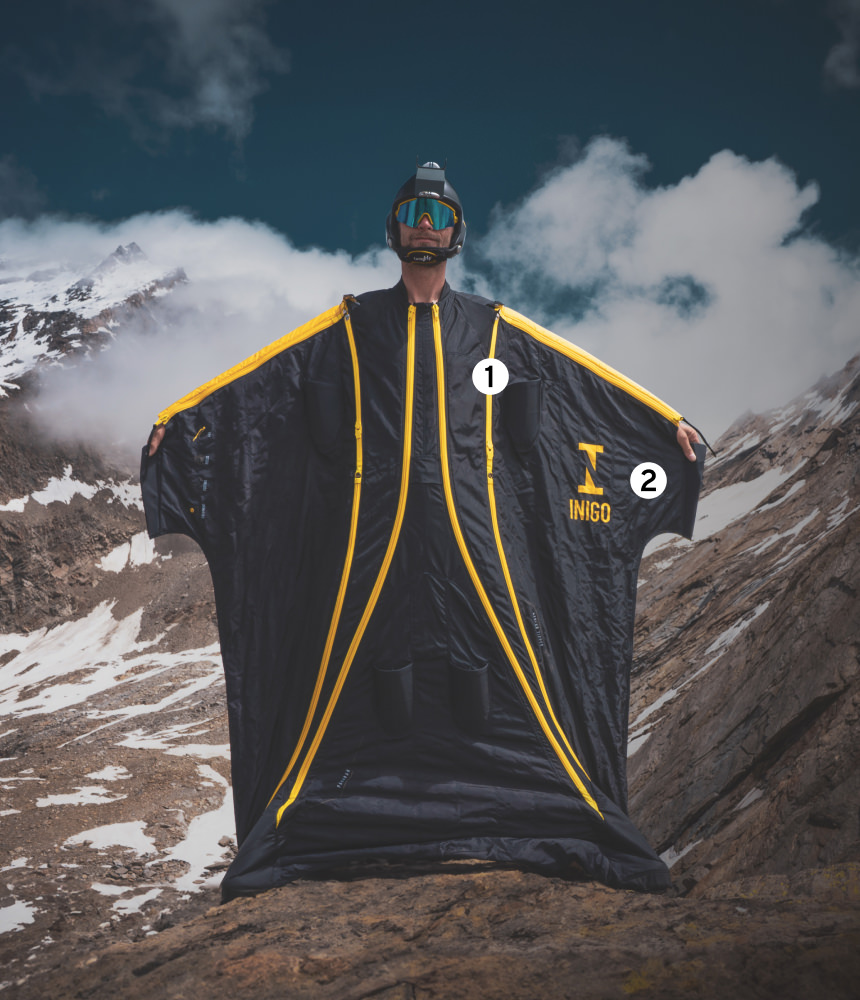 KEVLAR ZIPPER
The most safety-critical part of the wingsuit. Parachute deployment exerts extremely high forces on the zippers.
PARAPAK
Parapak is used because of its high tear resistance to sharp rock. Tim needs to make the final ascent up the mountain to his jump zone wearing the suit.
THE WINGSUIT
We have commissioned a wingsuit for Tim in order to fully appreciate and understand its manufacture. Working closely with Phoenix Fly, we have designed a suit that visually highlights its most safety-critical aspects.
Phoenix Fly, a manufacturing company based in Ljubljana, Slovenia are at the bleeding edge of wingsuit technology. Their mission is to make the sport more accessible and so safer to wider audiences. Tim acts as a test pilot for them and aids in the technical innovation around the design of the different suits. Each suit has a different flying characteristic depending on its use.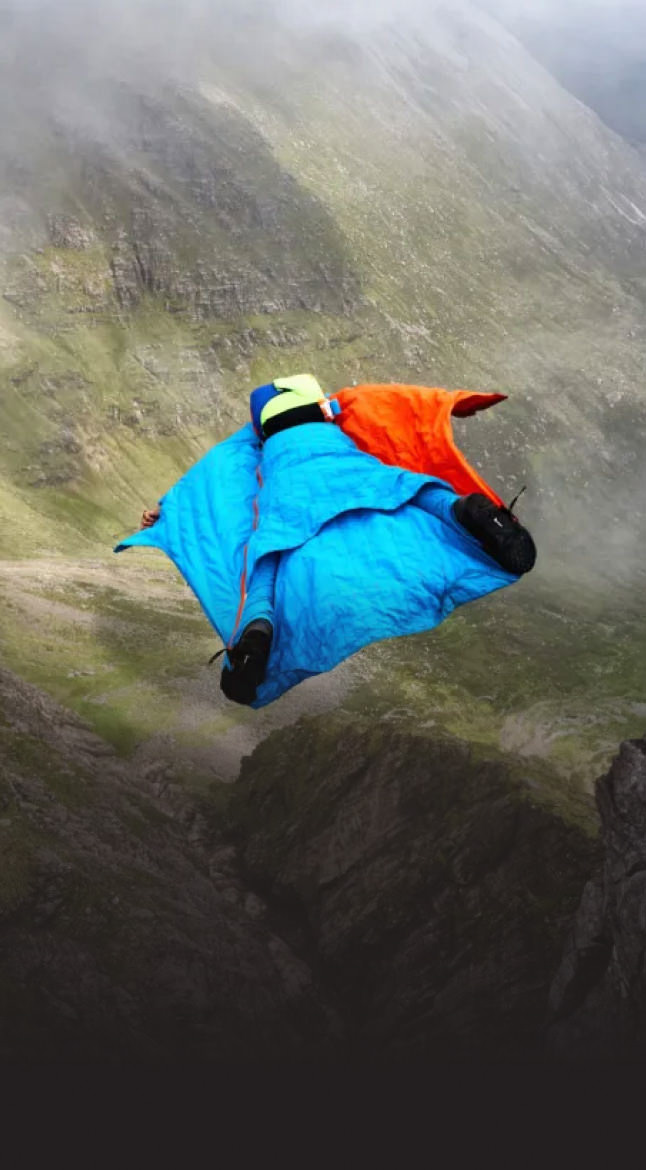 IT'S NOT LIKE SUPERMAN, WHERE YOU'RE POINTING ISN'T WHERE YOU'RE FLYING."
Tim shortly after jumping from Lord Berkeley's
seat in the Scottish Highlands.
IT'S NOT LIKE SUPERMAN, WHERE YOU're pointing isn't where you're flying."
Tim shortly after jumping from Lord Berkeley's
seat in the Scottish Highlands.
ANGLE OF ATTACK
Most wingsuit fatalities occur by adopting the incorrect angle of attack (AOA). Telemetry from recovered equipment sadly indicates that average speeds fall significantly below the optimum, often by very large margins. The safety critical angle lies somewhere between 20 to 35 degrees to the horizon. On average, this allows for a forward distance of 2 meters for every meter of drop, generating the necessary speed to avoid obstacles or take evasive manoeuvres. We are working with Tim to keep reminding the wing-suiting community to put in place the necessary checks to ensure that AOA is properly considered in every flight.
I feel comfortable in my ability and decision-making to reduce the risk as much as reasonably possible"
I FEEL COMFORTABLE IN MY ABILITY AND DECISION-MAKING TO REDUCE THE RISK AS MUCH AS REASONABLY POSSIBLE."
Tim performing a recce of Aconcagua in the Andes mountain range in Argentina before climbing and jumping at an altitude of more than 6000m above sea level.